Mission and Strengths
An overview of the advantages and offerings of Aoyama Business School, which strives to be a business school leader both intellectually and emotionally
TOP PAGE 〉ABS Value 〉Message from the Dean
To prospective Aoyama Business School students
Producing Creative Leaders Through the Aoyama-Style MBA Program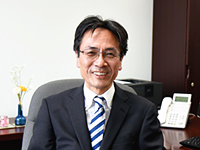 The mission of the Aoyama Gakuin University Graduate School of International Management Studies (Aoyama Business School [ABS]) is to foster creative leaders who fulfill their social responsibility to serve as global citizens, and to develop a prosperous future through our leading research activities. In order to achieve this mission, we strive to cultivate management professionals who actively learn through cooperation and collaboration with a diverse range of people to identify and tackle challenges.
Aoyama Business School's curriculum for the Master of Business Administration program is based on global standards. Our required courses provide students with fundamental knowledge essential for international management, from a variety of fields. Our elective courses imbue them with high ethical standards and a global perspective. Students further increase their expertise through our specialist courses in strategy and organization, marketing, finance and accounting, and operations and information systems. The final experiential learning project integrates what students have learned as well as using group learning to help them develop the coordination skills needed in the business world. This curriculum also includes partner programs with overseas business schools.
The international management science major unified doctoral program consists of a Ph.D. program that cultivates academic researchers, for students who wish to engage in academic theory studies, and a DBA program that trains researchers for companies and other organizations, for students who wish to engage in practical research. These programs are led by ABS's broad-ranging faculty. Our superb instructors include researchers at the forefront of academia and instructors with extensive business experience. Many have engaged in research and education activities at overseas business schools, and have Ph.D.'s from European and American universities.
ABS is Japan's oldest private business school, but our curriculum and programs are flexibly tailored to meet the needs of society in our modern times. Our student body and alumni encompass a wide range of ages, genders, nationalities, and past career experience. Our roughly 2,000 alumni are active throughout society. Our students, with their diverse career experience and objectives, work together to achieve their greatest potential, building valuable networks of connections they maintain even after graduation.
We are looking forward to enrolling students who are strongly motivated to improve themselves and broaden their potential. Come study in our lush, verdant campus, located in the Shibuya/Aoyama area, a cultural and information center, together with other students from all walks of life, led by our exceptional faculty and educational programs.