Mission and Strengths
An overview of the advantages and offerings of Aoyama Business School, which strives to be a business school leader both intellectually and emotionally
TOP PAGE 〉Academic Programs 〉Experiential Learning Project
Experiential Learning Project
Aoyama Business School's MBA offers the courses below as a capstone curriculum for knowledge gained earlier in the program.
Each course was developed through collaboration with overseas business schools and industry.
※The content is current as of the creation of this page.
※Click on a title to display details regarding the course.
Management Game
Introduction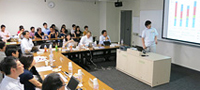 In this course, students, in groups of four or five, manage virtual wristwatch companies for a three year period. They compete against four other rival companies, consisting of MBA students in schools such as Carnegie Mellon University. Students are given positions like president or vice-president within the company, and become directors, charged with managing the company. Students are responsible for deciding, entirely on their own, their positions within the company and the company's organizational structure. Each wristwatch company is responsible for selling two models, a consumer-grade wristwatch and a luxury wristwatch, in six markets: Japan, China, the US, Mexico, the UK, and Germany, in their respective currencies. The five companies around the world compete against ABS. Company rankings and individual students' scores are determined based on management indices such as EVA, ROA, ROS, market share, and stock price, as well as third-party personal evaluations by the board of directors and mutual evaluations by other team members.
In 2013 approximately 100 MBA students (25 companies) from the US, Japan, China, and the Ukraine participated, divided randomly into four groups, each consisting of five teams.
Internet Business Project
Introduction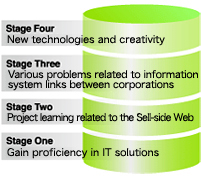 Today, IT and the Internet are essential elements not only for operations, but for achieving strategic management aims. Students engage in a year-long project focused on business planning, implementation, and regular management duties. The course uses a story center approach in which students encounter various implementation hurdles and develop their abilities to handle issues that arise during actual deployment, focusing on effectively using constantly changing IT. The project is designed to cap off the MBA program, involving business strategy, net marketing and customer capture, web design, specific launch and enhancement measures, cost management and profitability, product appeal and evaluation, and more. The course also includes the challenges of smartphone applications, overseas order placement and negotiations, specifications, and online presence.
Business Planning
Introduction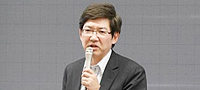 In this course, students form teams that create new business project plans based on their own business ideas. They cultivate their abilities to start up venture businesses (including internal startups) in the near future. Both the content and implementation of the course require that participants be strongly motivated and capable of creating and issuing proposals on their own. The first half of the course consists of discussions based on presentations and lectures by entrepreneurs with publicly listed companies and graduates regarding their own experiences. During the second half of the course angel investors and venture capitalists will be invited, presenting the students with many opportunities for practical evaluations.
BACCS (Corporate Evaluation) / BACCS (Fund Management)
Introduction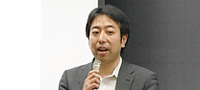 In this course students simulate asset management for active Japanese funds as portfolio managers. Based on corporate evaluation and methods for creating long-term business forecasts using income statements, balance sheets, and cash flow statements learned during the first half of the BACCS (fundamentals), students learn how to select investments, apply risk analysis concepts used in portfolio management, and carry out performance evaluations. The Daiwa Securities Group provides extensive support regarding asset management for active Japanese funds, and students use Poet, the same portfolio management software used by actual asset managers (investment trustees and financial advisers). Students also receive evaluations from specialists during monthly asset management results reports.
Marketing Planning Project
Introduction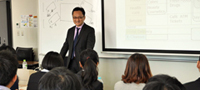 The Marketing Planning Project is focused on all aspects of marketing (customers, products, brands, channels, and communication). The Graduate School of International Management collaborates with industry, providing students with hands-on practice in resolving corporate management challenges and planning customer needs-based marketing strategies for actual companies.
Past partners and planning themes have included:
2010: Tokyu Corporation "SHIBUYA 109" (fashion business marketing)

2011: Japan Triathlon Union, Saitama Seibu Lions, and Tokyo Yakult Swallows (sports marketing)

2012, 2013: Ministry of Economy, Trade and Industry "Cool Japan Strategy" and "Creative Tokyo Project", Beams, Parco, Shibuya University, Shibuya Keizai Shimbun, etc.(marketing strategy to vitalize the Shibuya area)

2014: Key Coffee (marketing strategy for the coffee industry, from upstream to downstream, and marketing strategies based on global perspectives and new lifestyle concepts)